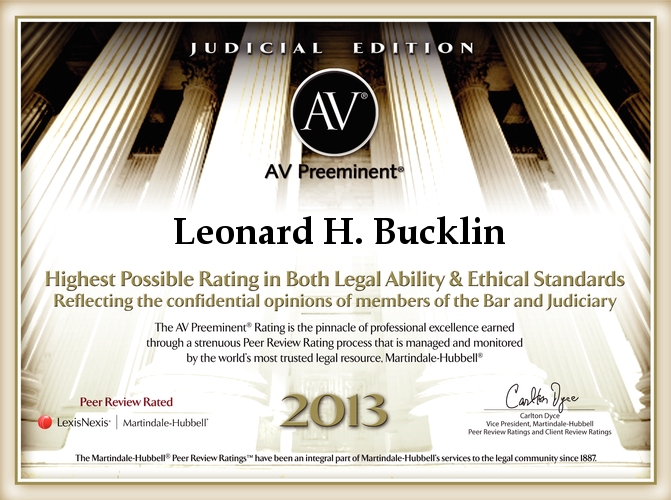 Attorney, Author, Ethicist,
Legal Fee Dispute Consultant
Over 40 years of experience in litigation, trial practice, transactional work, and law firm management.
Over 30 years in law firm management and in supervising other lawyers in many states.
Over 10 years of experience in depositions and trials as an expert witness.
Over 15 published articles and books regarding law practice management, ethics, litigation, and legal fees.
Attorney
Bucklin is ranked AV©Preeminent™ by Martindale Hubble, because of being rated continuously as "AV" (the highest rating), by lawyers and judges who know him, for over thirty five years. That ranking under the confidential Martindale-Hubble Rating System marks other lawyers' confidence in Bucklin's legal ability, practical knowledge, ethical standards, and clarity of presentation.
Leonard Bucklin is a Fellow of the International Academy of Trial Lawyers. (The Academy was founded in 1954 to be a peer group of 500 top trial lawyers in the United States, from both the plaintiff and defense bar. Fellowship is by invitation only, after a careful vetting process. Bucklin has the distinction that, on being admitted, he became the then youngest member of the organization. He has served on its Board and on a number of its special and standing committees.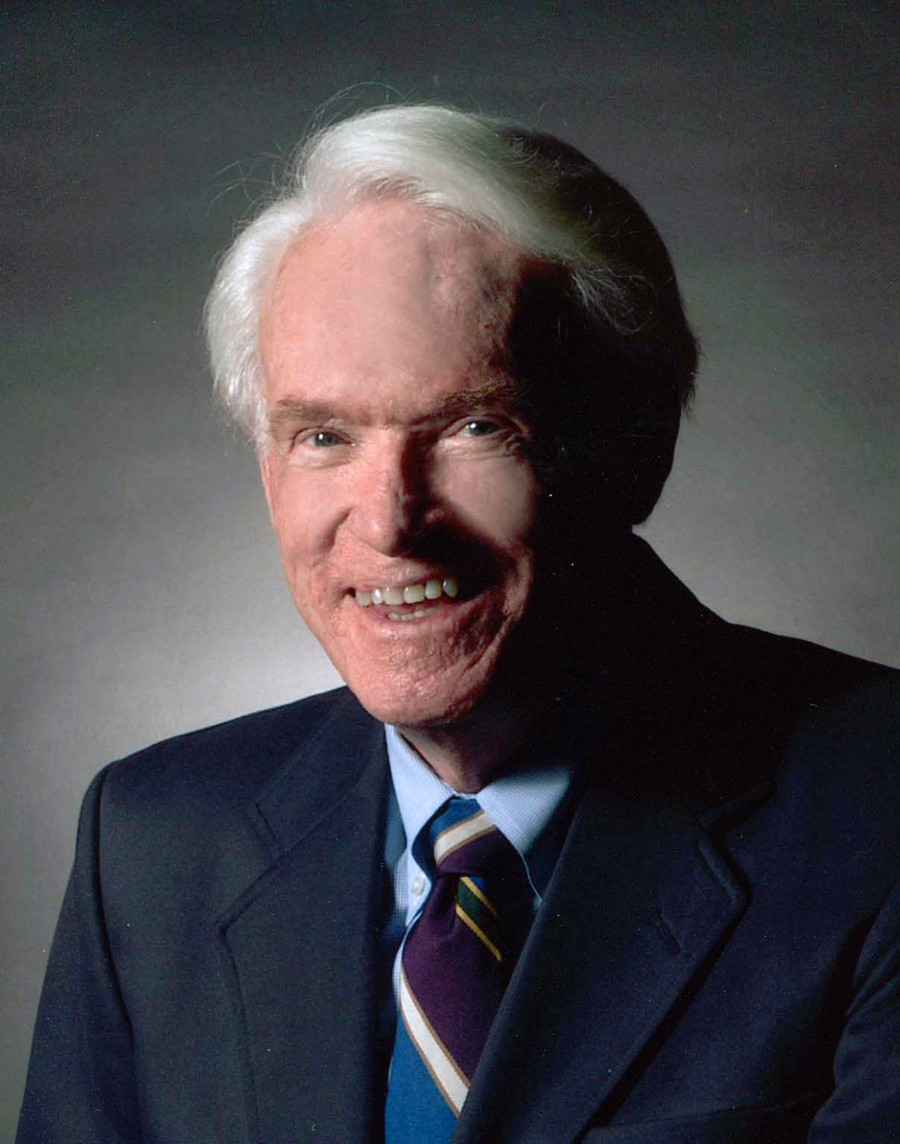 Bucklin has been recognized for working with both individual clients and also with Fortune 500 companies as clients, on both sides of the counsel table. He is a member of the Million Dollar Advocate's Forum, an organization limited to plaintiff's attorneys who have won million-dollar verdicts, awards and settlements. However, on the other side of the litigation table, over 30 insurers and national self-insurers have used his services for defense work on cases of substance.
Author
Leonard Bucklin is the author of over 17 published articles and books on the practice of law and legal fees. A list of principal works of scholarship is available.
His legal works include the three volume set Building Trial Notebooks, available at James Publishing Company. The text is a resource for advice and forms for the management and handling of cases in litigation, from case intake through discovery and motion practice to settlement or trial. He is the author of a book used by attorneys on both sides of significant attorney fee award cases —- Attorney Fee Awards: a handbook for attorneys. It is available in either printed or in eBook format with immediate download.
He is engaged in continuing research for his legal writing and for his annual supplements to his books, with emphasis on current litigation processes and procedures and on current expert and court opinions involved in the analysis of legal fees in dispute.
Ethicist
Legal fees are the subject of various legal ethics rules and court opinions so it is a benefit to have a legal fees expert that can speak with authority about legal ethics. Until the American Bar Association's Trial and Insurance Practice Section stopped publishing eDicta, an electronic magazine, Bucklin was the editor of the ethics section, titled Neoethics. Leonard Bucklin is an ethicist advising both lawyers and corporate officers. An ethicist is one whose judgment on ethics has come to be trusted by a community, and (importantly) who expresses his/her advice in a clear way that makes it possible for others to follow that advice in solving a practical problem. Examples of Bucklin's advice as an ethicist, making it possible for others to solve practical problems, follow below.
Bucklin has also been a consultant to corporate management on corporate cultures and ethics. His extensive article More Preaching, Fewer Rules: a practical process for the corporate lawyer's maintenance of corporate ethics, has been part of a new line of thinking that is gaining momentum in corporate ethics engineering. Originally an invited paper presented at a symposium on corporate ethics, at Ohio Northern University's College of Law in 2009, the paper was, on request, enlarged and then published (available in PDF format) by the ONU Law Review.
Among other things, Bucklin served for 12 years on the Ethics Committee of the United Network for Organ Sharing (UNOS), and 6 years on the Board of Directors, with 3 years on the Executive Committee. UNOS is the non-profit corporation that oversees hundreds of medical organizations as it operates the government mandated "equitable allocation and distribution of human organs to patients" for transplantation in medical centers across the country, setting standards for, and auditing compliance with those standards for hundreds of medical organizations spread out over the entire United States. Read about UNOS.
Bucklin's journal article Woe Unto Those Who Request Consent, is a discussion of ethics and law involved in organ procurement, and advocated a specific set of changes in organ procurement. First published by the North Dakota Law Review, the article was requested and published by the Association of Organ Procurement Organizations, and is now available as part of its current Resource Guide for Organ Procurement Organizations. A copy of Bucklin's original law journal article was requested by the Social Sciences Research Network and is available in PDF format. The article directly lead to changes in the procurement of human organs for transplantation nationwide.
Career
Before focusing on ethics and organizational (law firm and corporate) governance, Bucklin's legal practice for over 40 years was balanced between commercial and personal work, and between office practice and litigation, and between plaintiff and defense work. Bucklin's primary experience is in Minnesota, North Dakota, Colorado, and Texas, but the nature of his practice has taken him to many states for litigation or interaction with attorneys of various states. Bucklin's career includes, while serving as a partner in Zuger and Bucklin, also serving as General Attorney for an insurance company, both trying cases for the company and also supervising attorneys working for the company in 34 states.
Legal Employment
Presently owner of the Bucklin Organization. Previously, of counsel to Bucklin & Klemin, P.C., in North Dakota; of counsel to Allison & Huerta in Texas; president of Bucklin Trial Lawyers p.c., a regional law firm for the Midwest upper prairie states; General Attorney for Provident Life Insurance Company, doing business in 34 states; senior partner of Zuger & Bucklin; associate attorney in Larson, Loevinger, Lindquist, Freeman & Fraser (predecessor firm of Lindquist & Venum).
Legal Education and Bar Admissions
Law School, University of Minnesota [two law degrees: (1) a B.S. in Law (with College of Arts and Sciences faculty award of Delta Sigma Rho) and (2) a J.D. (with Law School faculty award of Order of the Coif).] While in law school, Bucklin was a law clerk for a Minnesota Supreme Court Justice, and a member of the Minnesota Law Review. Bucklin was admitted to the state bars of Minnesota, North Dakota, Colorado, and Texas and sundry U.S. District Courts. Bar memberships are still maintained in the U.S. District Courts of Minnesota, North Dakota, Colorado, and both the Southern and the Western Districts of Texas. State court bar memberships are maintained in North Dakota and Texas. He is also admitted to the bars of the U.S. Eighth Circuit Court of Appeals, the U.S. Court of Federal Claims, and the U.S. Supreme Court.
Representative Professional Associations and Activities
In addition to the professional associations and activities noted above, the following others are representative.
Bucklin is a member of the American Bar Association, and also of three specialized groups of the American Bar Association:
the Law Practice Management Division,
the Litigation Section (Commercial and the Business Litigation Committee and Insurance Coverage Litigation Committee), and
the Trial, Tort, and Insurance Practice Section (Trial Techniques Committee).
Bucklin is a member of:
the Texas State Bar Association (Litigation Section);
the Corpus Christi [Texas] Bar Association;
the Maricopa County [Arizona] Bar Association (Litigation Section) [Maricopa County, Arizona, with thousands of lawyers, where Bucklin's principal office is located, is the center of the nation's 5th largest court system.];
the East Valley Bar Association of the Maricopa County Bar Association).
the East Valley Bar Association of the Maricopa County Bar Association).
The State Bar Association of North Dakota (Legal Economics Section)

.
Bucklin served on the advisory Committee on Trial Procedure to the North Dakota Supreme Court (1977-1992).
Representative Civic Organizations
At various times, not all at the same time or now, the activities of Bucklin have included: Southside Rotary Club of Corpus Christi (Paul Harris Fellow); Rotary Club of Bismarck (President, Director various years; Town Club of Corpus Christi; Ordained Elder of the First Presbyterian Church of Bismarck;1974; present member of Dayspring United Methodist Church of Tempe, AZ; Sky Harbor Airport Interfaith Chaplaincy of Phoenix, Arizona, where in the past he served on the Board of Directors.