Litigation, Discovery, Depositions, Settlement, and Trials
Our LawyerTrialForms division has Litigators' Legal Forms – discovery, deposition, eDiscovery, case management, settlement, and trial forms available for immediate download, in PDF format, into your computer.
Use right now, not tomorrow.
The mission statement of LawyerTrialForms™ is: "Making Good Lawyers Better". We bring attorneys more than efficiency, and more than superior forms and proven tactics advice. Our legal forms also bring you the advantages of a senior partner litigation coach giving you the benefit of years of litigation and trial experience.
Browse the entire catalog here.
Here are a handful of other resources for trial lawyers

TrialNotebooks.com is a specialty shop website selling a downloadable eBook — a trial notebook that starts at the start of litigation, organizes you during discovery, and takes you to trial efficiently, titled: LitigationReady™. Print it out from your own computer and use today.
LitigationReady™ is a trial notebook system not only for trial, but also for the handling of litigation, from start, through discovery, to settlement or trial. Discovery is easier and more organized. Depositions run smoother and with less wasted time in preparation. "LitigationReady™ is a complete litigation notebook system, organizing lawyers for every deposition, every settlement conference and every aspect of trial."
Lawyer-Deposition-Forms specializes in deposition forms, checklists and deposition advice for lawyers. Depositions are a key element in litigation.
Lawyer Settlement Forms™ is about settlement of lawsuits. That is because over 90% of cases in litigation turn into settled cases. This site sells settlement related forms, reports and checklists.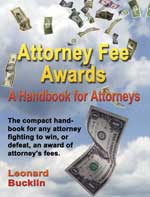 Another book written by Bucklin is Attorney Fee Awards: a handbook for attorneys. It is the basic resource for attorneys seeking, or attorneys defending against, an award of attorney fees in litigation. The 199 page soft cover bound book is available at Booklocker (the publisher) or Amazon.
The same 199 pages of material in eBook PDF format for immediate downloading in a PDF format into your computer to read or modify the forms, and print out what you want, is available at AttorneyFeeAward.com